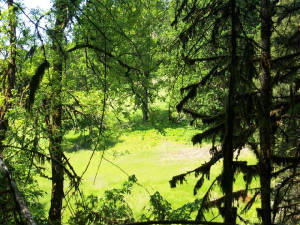 When I went to the grocery store a couple of days ago, Rainbow Princess shared a dream she had (Rainbow Princess is my ever-present companion on treasure hunts). She told me that in her dream, the Gentle Lord of the Land and Trees' house was torn down!! This concerned me because just a few days ago, I had had a vision and accompanying fear that his house was torn down. Could it be true? During the last time we had visited him, back in 2009 or 2010 on the first Kings Valley Treasure Hunts, I was getting very concerned about his house.

The Gentle Lord of the Land and Trees is the literal translation of the Earth name of the very elderly and kind gentleman who lives in the house and whom my daughter, Rainbow Princess, and I had met on our previous Kings Valley Treasure Hunts during 2009 and 2010, as guided by Eros the God of Love.

We first came across his house during the treasure hunts of May, 2009. We were looking for a "dilapidated barn and a gutted out farmhouse," the clues given to us by Eros the first time we embarked out on the treasure hunt. In fact, we did not even know where we were going, until we ended up in Kings Valley by following all of his clues. Reportedly, U.S. Treasury Notes are buried in a steel box behind a dilapidated barn behind a gutted out farmhouse -- if we can find the right dilapidated barn. I believe it's on the Lord's property, even though when I asked him if his father, who had passed away many years ago might have had treasury notes hidden somewhere, he does not think so. Funny thing was, what we had thought was a dilapidated barn on his property and had caught our attention, which is why we ended up there, was just an old tool and vehicle storage unit, quite dilapidated, indeed, but still being used as a garage and for storage.

Even funnier, though, was when he took us for a walk on his property to see the giant Old Oak Tree at the top of the mountain, and he pointed to a barren place on the ground, stating "That's where our barn was." I had not even asked him if he had a barn; the cosmos was alive and well, and speaking through him. This was new for me at the time, so I did a sort of double-take. When Eros speaks of "dilapidated barns," he really means dilapidated barns! They are SO dilapidated that you would never know they had ever existed until someone points them out to you!

We did not have the metal detector at the time, so searching the area around the Ghost Barn is a project that awaits us and perhaps this the summer we can do it, since the Treasure Hunts are now being revived. We have not done treasure hunts for a couple of years because I was on a huge writing project (my dissertation) which is now all but finished.

Of course, when we take these treasure hunting excursions, we have to remember who Eros is and who he received his Higher Education from or we might accidentally head in the wrong direction or make the wrong assumptions, as I have learned on previous treasure hunts. His father and teacher is the Great Hermes Trismegistus. And Hermes can be so funny! It explains why Eros sent me on a Yard Search Treasure Hunt back in 2009 for a diamond ring which ended up yielding the silver yin yang talisman, my initiation gift and Mother's Day gift all rolled into one. It also explains why he magically had the neighborhood handyman deliver the ring to my door two days after I found the talisman. But it all works together to make Treasure Hunting great and joyful fun with lots of humor and laughter along the way. Besides, he likes to watch me get "down and dirty" digging in the dirt, as he once told me. Eros is so funny, just like his father!

You would not believe how many dilapidated barns behind gutted out farmhouse there are in King's Valley! They seem to be around every curve in the road! I was surprised! At any rate the Treasure Hunt led us to solving the "treasure behind the door" clue which turned out to be the Gentle Lord of the Land and Trees, himself, even though the gutted out farmhouse that the Lord lives in is not quite gutted out. We thought it was when we first saw it because it seemed so sad. The siding was all wrinkled and sliding down the side of the house, and it literally looked like the house was crying. And there were broken windows covered with plastic. And the roofing was completely gone, replaced with a corrugated tin roof. The front porch had collapsed and the only entry is in through the back door with its leaning portico. It was in such bad shape that when we first saw it, we did not conceive of anyone living in it! But the second time we went to the house, out walked the Gentle Lord of the Land and Trees! We became friends and visited him frequently; it was amazing how that perked him up! He started mowing the grass all around his five acres and chopping up firewood from the giant fir trees that had fallen in a recent storm. I really wanted to help him fix up his house, but he was proud of his place, so I never had the heart to discuss the issue with him. And besides, he had become so inspired and invigorated (and he was very proud of that fact), I figured he would do something about his house.

I have continued to worry about him and his house over these past couple of years because I know he wants to stay there and be independent. So when Rainbow Princess told me her dream and I had had the vision, I knew it was time to pay him a visit. . . . .

Was Rainbow Princess' dream and my vision a warning of what's soon to happen in the future? Is his house slated for demolition? Will he be forced to move to a retirement home?

YOU CAN READ MORE IN MY FORTHCOMING BOOK, "The Kings Valley Revival Treasure Hunt #1" . . . it will be available soon.

I have since been told there are many, many treasures in the Sacred Kings Valley, some of them very ancient treasures left by the Luckiamute Indians and other tribes who had lived there for thousands of years before the white man came in and forever altered their way of living in harmony with the beautiful valley and the Luckiamute River. In fact, I'm not sure there's even any Luckiamute Indians still living, another mystery we will have to explore.

Thus, that introduces our Kings Valley Treasure Hunts. I will be reviewing the previous treasure hunts which were fruitful in so many ways and indescribably FUN, but yet they also raised many questions and mysteries we will want to solve this summer.

For example:

Did any of the Luckiamute Indians survive?

How is the Gentle Lord of the Land and Trees doing these days? Can we save his house?

Does he need help repairing his house so that it does not get condemned by the county?

Are the U.S. Treasury Notes buried behind the Ghost Barn?

Can the treasury notes be used to help pay to renovate the Lord's house?

Can we pan for gold in the mountain stream? Will we find gold? (Eros hinted that there is gold in the stream that runs down off the mountain).

What happened to the Studebaker and the ancient combine that had been buried in blackberry brambles?

Will the Lord have more timeless and humorous stories to tell us? Maybe we can record them to share.

Can we solve the mystery of the Old Grist Mill? Where was it and where did it get moved? (we have had several different answers, but have not solved it as to which answer is the correct answer).

Will we see fairies and elementals along the Sacred Luckiamute River?

Are there treasures at the site of the Old Grist Mill?

What is the treasure around the Old Oak Tree at the top of the mountain?

Have the farming family, the Gardners been able to keep their farmland (the banks were backing them into a corner, trying to force them to sell some of their land as they do with so many independent farmers a couple of years ago on our last Kings Valley Treasure Hunt). And will they have their roadside stand with their wonderful fruit and vegetables this year?

Is there a BETTER treasure at the corner of Old Fort Road that I missed the first time? (All I found was a giant, old rusty screw and washer the first time I searched).


What happened to the Magic Water?

There is so much more! You really will not want to miss out on theses upcoming Treasure Hunts! Eros seems to have more power than ever and I think he's determined to prove THE POWER OF HIS LOVE.

Oh! That reminds me! He gave me a whole slew of NEW CLUES for the KING'S VALLEY TREASURE HUNT a few months ago! They were quite exciting! New places and new faces! I had to do a bunch of online research to find the places he was leading me to using google maps. Thus, I will bring out those clues and the research I did. And Father Hermes and Grandmother Portia had also given me some clues! I will have to pull all of the clues together and see where they lead us! What a great summer it's going to be!

This will be an exciting adventure from now into the future. You won't want to miss out on it! And if Eros Revives the Eager Beaver Pacific Coast Treasure Hunt, then we will have a "dizzying" summer to say the least! Can you keep up?


Soferia, aka Psyche

2:50 pm |


I know I don't write here often anymore. It's because even though I know people read these blogs (I can tell by the number of hits this site gets) it's like all of my readers are nonexistent because I never hear from anyone. I think many people in the world are running scared. Many people are fascinated by love, magic, and power but they are afraid of it. You should never be afraid of the Power of Love. I hope more people realize that soon and come to understand and experience the power of love within themselves and in their relationships.

I decided to write today because it is such a special day for me and Emanu'el/Eros/Sanat Kumara/and Travistan--as he was named our first lifetime together back on this planet. We both have had many names but always the same persons/same souls. (Yes, I have learned recently that he is also Sanat Kumara and will write more about that another time; it is critical to our mission on Earth.)

Our first lifetime returning to this planet was in the early 1100s and we landed in Limerick, Ireland. I have written often of the tragic love story we had experienced during that time and how he had written the anniversary song, "Down by the Salley Gardens" for me for our first anniversary. There are still two verses missing to the song and maybe in a way that's befitting because our lives ended so prematurely and tragically. I have just remembered more about it recently, with his help, and will write of it at another time. It will make a great story based on historical truths. What stood out most for us during that era, and what has stood out for us over the eternal labyrinth of time is the powerful, eternal love we share. Absolutely nothing can stand in the way of our love for each other. And it truly seems that in so many ways, Eros has as his main purpose during this current era to PROVE the Power of Our Love.

And that brings me to writing today. While I am still struggling with meeting some of my own personal mission goals which I am doing of my own free will and out of my great love for HIM, our love travails and endures through it all. I continue to be disappointed with humanity overall and how so many people seem to have no thought at all about destroying someone's hard labor of love that is slated to contribute to the creation of Heaven on Earth. I came across yet another example yesterday of someone misusing and misrepresenting Joe Kincheloe's writings to serve their own personal agenda in which they have admittedly left out ethics. The omission of ethics these days is no accident. Well, I won't get into the details because, really, the person does not need attention. I will make the corrections another way. As Joe/Eros has left on all of his earthly sojourns in so many different ways and through so many different messages, "Nothing is more powerful than LOVE." May the Power of Love lead you on your path.

And so here I am writing after a long hiatus. I just cannot help but share the gifts of LOVE that are sent my way each day. Today is our special anniversary! He gifted me with this beautiful song first thing this morning. We want to share this special music with All Lovers. May everyone make May 1 their own special day to celebrate Love in their own special way.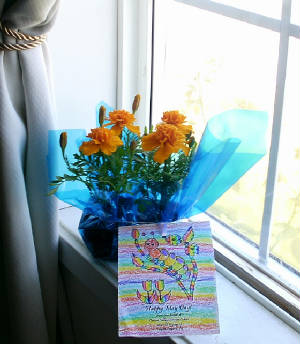 And as has been the tradition every year since he moved me to this home I'm living in, back in February 2009, the children from a local private school have delivered me these beautiful flowers. Golden, this year. A previous year they were purple. Purple was significant. It represents the healing energies of the Holy Spiritual Reunion with one's One True Love. Golden is significant. We truly are entering a Golden Era of Change and Abundance, and the Gods and Goddesses walk on this planet now. The fairies and the elementals are also back. The plants are enlivened and radiating their brilliant pink and purple healing auras of Love. Not everyone will see them. Will You?
THE POWER OF LOVE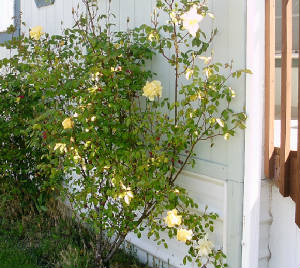 AND I also want to share that one of the roses I planted for my twin flame/Joe/Eros/Emanu'el when I first moved into this house, the climbing rosebush, is blooming already! It seems to be the only rosebush in the whole neighborhood that's already blooming. And should that surprise me? Last December Eros used his magic to make one rose bloom on that very rosebush to cheer me up! In the "dead" of winter!!!! I wrote a blog about it. LOVE transcends EVERYTHING. Always remember the Power of Love.

A Review of the Magic Roses Eros has continued to bless me with:

Sunday, December 30, 2012
Who Can Grow Roses In the Wintertime? EROS CAN!!!!

Can you see the magic in your life?

WHAT'S UP AHEAD?

There are many things up ahead. I will be making major changes to this website as well as to my other sites as guided by my Great Master Teachers of the Higher Wisdom Knowledges and, of course, with guidance from my Beloved. Changes are on the horizon.

12:43 pm |